I've earned my CUE #DitchSummit Wellness Advocate Micro-Credential and Open Digital Badge! If you hurry, you can too.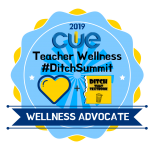 Every year Matt Miller host the Ditch Summit for Educators and its worth spending time with believe me. This year he's focused on Wellness topics for Educators.
If you want to sign-up, you'd better hurry over to DitchSummit.com and register because the links to the videos are only live until August 10, 2019.
The videos disappear at the end of the summit, but you can download and keep a free PDF notes page from each session. They're summaries of each session so you can remember the key points from each presentation you watch … and even the ones you might not have time to watch!
Matt also has the 2018 videos up on the website for you to watch. I highly recommend the one with Kim Bearden @kimbearden Co-founder, Ron Clark Academy.
So far this year, my favorite has been Brad Montague @thebradmontague to whom I sent this Tweet to the other day. He was gracious in replying and that shows what an awesome heart he has.
Free Professional Development Credits
For each video you watch, you can earn an hour of professional development credit.
Each video will be accompanied by a button to generate a PD certificate. Click the button, fill in some details, and the certificate will be automatically created and sent to your email.
Turn it into your school or district. The certificates aren't accredited by any organization, so there's no guarantee that your school/district will accept them, but hopefully, they will!
Follow along on Twitter, just search the #DitchSummit and #WeAreCUE hashtags.
Please follow and like us: