[bctt tweet="The new 2019-2020 ClassDojo Badges are out! Along with a great Teacher's Resource Guide for ClassDojo." username="BobbieGrennier"]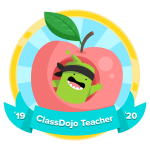 We're excited to support you and the amazing things you do for your school community this year! We believe in the "power of yet" and that when we work together, we can change the world. So let's team up and make this your BEST. YEAR. YET. ~ ClassDojo Staff
ClassDojo teachers know the importance of building a classroom community by connecting with families, sharing classroom moments, and giving students a voice. You share your love for ClassDojo with other teachers because when something makes a difference in your classroom, you know it can do wonders for others too!
Personally, I love using ClassDojo because the students really respond to it and so do the parents. The trick is get all the parents on-board. I find that's the hardest part of using it, is getting the parents to add themselves into the system. Once they do, they love it too!
You can join the ClassDojo ​Teacher Community​ to get advice and collaborate with other teachers. It's a Professional Learning Community where you are encouraged to freely share ideas, best practices, and collaborate!
Please follow and like us: